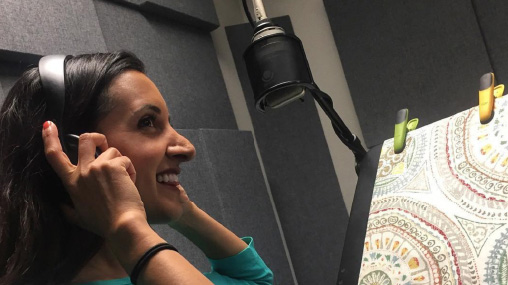 Below is a list of all the awesome sponsors that help make the Afford Anything Podcast a reality!
If you heard a sponsor mentioned in a podcast episode and can't put your finger on it, you're in the right place. We keep this list updated so new sponsors are added as soon as they air.
However, if you're listening to an older episode and can't find the sponsor listed here, then the offer likely expired, as we don't have control over these offers. Sponsors can also change their offers at any time.
Onto the good stuff!
Freshbooks
Freshbooks is an easy-to-use, cloud-based accounting system that takes the stress and hassle out of bookkeeping – especially invoicing. You can create an invoice in a few seconds, and Freshbooks' automated system will handle the rest. Visit Freshbooks.com/paula for a free 30-day trial. Please mention this show when they ask how you heard about them.
---
Radius Bank
Do you want your money to make more money? Then check out Rewards Checking, from Radius Bank. You earn 1.00% APY on balances of $2,500 and up, there are no fees, and it offers unlimited one percent cash back on debit card purchases. To get started, head over to radiusbank.com/paula.
---
BetaBrand
Most of us find ourselves in situations where we need to wear dress pants, whether it be for work, a conference, or a meeting. Wouldn't it be nice if dress pants were more comfortable to wear? Now they are. Betabrand offers dress pant yoga pants, and they're as awesome and as comfortable as they sound. Check out betabrand.com/paula and get 25% off one pair.
---
Grove Collaborative
Grove makes shopping for natural products easy. You don't have to search for a local store hoping that they carry what you want, and you don't need to worry about overpaying for "organic" products from questionable sites. Interested? Go to grove.co/affordanything to get a free five piece gift set!
---
Gusto
Gusto makes payroll, benefits, and HR easy for modern small businesses. In fact, 72% of customers spend less than 5 minutes to run payroll! If you sign up at gusto.com/paula, you'll receive 3 months free once you run your first payroll.
---
Rothy's
Rothy's shoes are stylish, sustainable, and comfortable for every day wear, anywhere. They come in four styles, their lineup is updated often, and I love that they make flats from recycled plastic water bottles! If you want to order a pair, go to rothys.com/paula.
---
CLEAR
Do you travel often? Do you get anxiety around making your flight with enough time to spare? Then check out CLEAR. It allows you to get through security using only your eyes and fingertips – no physical ID card necessary. Go to clearme.com/paula for two free months of CLEAR.
---
Away
The luggage that you use when traveling can make a big difference in your trip, and Away makes a perfect suitcase. There are plenty of interior compartments, it can charge your phone (how awesome is that?), and it's made from high-quality material. Get $20 off your luggage by going to awaytravel.com/paula and entering code paula at checkout.
Capterra
Capterra is the leading, free online resource to help you find the best software solution for your business needs. With over 700,000 reviews of products from real users, you can easily find the right tools to make this year the year for your business. Visit capterra.com/paula today to get started!
---
BruMate
BruMate is shaking up the beverage industry for the better. Its insulated drinkware is designed to keep your favorite beverages ice-cold all day long. It's perfect for bringing along to any outdoor event! Visit brumate.com and enter code "paula" for 15% off your first order!
---
PolicyGenius
Policygenius is the easy way to get life insurance. In minutes, you can compare quotes from top insurers to find the coverage you need, at a price you can afford. No matter how much – or how little – you know about life insurance, you can find the right policy at Policygenius.
---
Blinkist
Busy, but love to read and learn? Blinkist is the only app that takes the best key takeaways from thousands of nonfiction books and condenses them down into just 15 minutes. You can start a free 7-day trial when you join at blinkist.com/paula.
---
ZipRecruiter
Unlike other job sites, ZipRecruiter finds qualified candidates for you. Its so effective that 4 out of 5 employers who post on ZipRecruiter get a quality candidate through the site within the first day. Try it for free: go to ziprecruiter.com/afford.
---
Hello Fresh
Want to conquer your kitchen with deliciously simple recipes? Hello Fresh has you covered. Spend less time meal planning and grocery shopping with meals that come together in 30 minutes or less. Take advantage of Hello Fresh's special offer – get $80 off your first month by going to hellofresh.com/affordanything80.
---
Headspace
Headspace is your guide to health and happiness – just 10 days of Headspace has been proven t reduce stress and increase happiness. Learn the life-changing skills of meditation and mindfulness in a few minutes a day. Sign up at headspace.com/paula today for a free 30-day trial.
---
Simple Contacts
Simple Contacts is a super easy way to renew your contact lens prescription – you can reorder your brand of contacts from anywhere in minutes. You take a 5-minute vision test from your phone or computer, the results get reviewed by a licensed doctor, and you receive a renewed 1-year prescription. Get $30 off your order by going to simplecontacts.com/paula!
---
Native
Native creates safe, simple, effective products with trusted ingredients and performance. Their deodorant doesn't have aluminum and comes in a wide variety of scents for everyone. You can try it risk-free as Native offers free returns and exchanges in the US. Want to give them a try? Enter promo code paula during checkout for 20% off!
---
Ancestry
Have you ever wanted to know your family's origin story? Where they lived, and how you're all connected? AncestryDNA allows you to do exactly that – trace your ancestors' journeys over time, and build a tree so that your ancestors become more than just a name. For 20% off an AncestryDNA kit, go to ancestry.com/paula.
---
Skillshare
Skillshare is an online learning community with more than 30,000 classes in areas like entrepreneurship, freelancing, and technology. Take your skills to the next level so you can earn more – grab 2 months of Skillshare for free at skillshare.com/paula.
---
Mighty Networks
Have you been looking for a way to centralize your community? Mighty Networks is an awesome platform that helps like-minded people find and connect with each other. The best part is, it's super simple to get your community up and running with it. We know because we went through the process ourselves (check it out!). Get three months free when you sign up for a year by going to mightynetworks.com/paula.
---
Clearbanc
Clearbanc is making it easier for entrepreneurs to receive funding. They can fund anywhere from $10,000 to $10M in a single day. They work with SaaS companies and ecommerce companies, and they're on track to fund over $1 billion this year. If you're interested, go to clearbanc.com/paula, and if you get approved, you could qualify for $1,000 of additional capital.
---
EverlyWell
EverlyWell offers more than 35 at-home lab tests, from food sensitivity (the one I chose!) to thyroid and heart health tests. Each collection kit comes with simple instructions, and once you send it back, it's processed in a certified lab and the results are reviewed by a board-certified physician. To learn more, check them out: get 15% off by going to everlywell.com/paula and enter code 'paula' at checkout.
---
Society6
Society6 is an online marketplace that features tons of designs by independent artists on everything from wall art to yoga mats to mugs, shirts, throw pillows, and more. It's the perfect place to find unique gifts for those who are hard to shop for, and each purchase pays an artist. Get 30% off your order and free shipping when you go to s6.co/paula and use code paula at checkout!
---
Billie
Want good quality razors that don't cost a ton? With Billie, $9 gets you four refill cartridges, each with five blades for a smooth shave. Plus, one percent of all revenue goes to women's causes around the world. Get 10% off your razor at mybillie.com/affordanything.
---
Future
Get workouts for all of your fitness goals and take your trainer with you wherever you go with Future. Your coach will create a personalized workout plan for you, tailored to your schedule, routines, goals, and progress. It's accessible with an Apple Watch – if you don't have one, Future will include one. go to tryfuture.com/paula and get your first 2 weeks with your personal trainer for $1.
---
EveryPlate
Do you want to cook more meals at home, and save money in the process? EveryPlate dinners are a cheaper alternative to takeout and delivery, and meals come together in about 30 minutes. Get 3 weeks of EveryPlate meals for only $2.99 per meal – go to EveryPlate.com and enter code affordanything3.
---
Mint Mobile
Want to reduce your cell phone bill? Mint Mobile costs just $15 per month, and every plan comes with unlimited nationwide talk and text. You don't have to pay for unlimited data you'll never use – Mint Mobile offers 3GB, 8GB, or 12GB of 4G LTE data each month. You can use your phone with Mint Mobile and keep your phone number. Go to mintmobile.com/paula for your $15 per month plan.
---
Sanebox
Does your inbox make you feel anxious? Sanebox is a tool that can manage the mess for you. With the click of a button, Sanebox gets your email under control by filtering out unimportant emails so you can focus on what's important. It's works with whatever email client you're using. See how Sanebox can magically remove distractions from your inbox with a free two-week trial. Visit sanebox.com/paula for your free trial and a $25 credit.