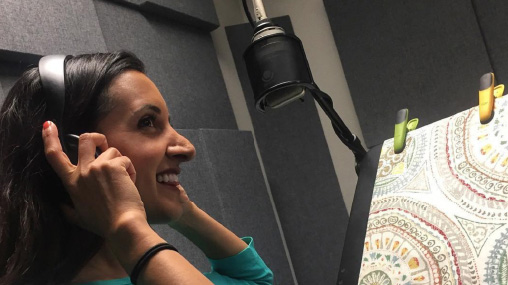 Below is a list of all the awesome sponsors that help make the Afford Anything Podcast a reality!
If you heard a sponsor mentioned in a podcast episode and can't put your finger on it, you're in the right place. We keep this list updated so new sponsors are added as soon as they air.
However, if you're listening to an older episode and can't find the sponsor listed here, then the offer likely expired, as we don't have control over these offers. Sponsors can also change their offers at any time.
Onto the good stuff!
LendingClub Bank | 1% Cashback + $50 sign-on bonus
Do you want to earn cashback with a debit card? Then check out Rewards Checking from LendingClub Bank (previously Radius Bank). You automatically earn 1 percent cash back with every purchase made. To get started, head over to gobank.lendingclub.com/paula and use promo code 'paula' to get a $50 sign-on bonus.
---
Rothy's | Sustainable, Washable Shoes, Flats, and Bags
Rothy's shoes are stylish, sustainable, and comfortable for everyday wear, anywhere. They come in four styles, their lineup is updated often, and I love that they make flats from recycled plastic water bottles! If you want to order a pair, go to rothys.com/paula.
---
NetSuite | Business Management Software
Do you handle the financials in a business? Over 27,000 companies use NetSuite to automate their processes, close their books quickly, and get visibility to all of their numbers in one place. Head to netsuite.com/paula to get a copy of their free whitepaper, "Secrets of Rockstar CFOs".
---
Oregon State University Ecampus | Online Education
Does your dream career require a degree? Oregon State University (OSUE) is a leader in online education and is known for providing the best online experiences for students across the globe. With more than 85 programs online, OSUE prepares learners to make an impact. Learn more at ecampus.oregonstate.edu/paula.
---
Egnyte | Ransomware Protection
Are you a business owner? The thought of losing access to all your files and information is probably terrifying, and ransomware attacks can happen to anyone. Egnyte is the first file system that includes sophisticated ransomware detection and recovery tools. Start your free trial at egnyte.com.
---
BlockFi | Rewards Credit Card
Earn 1.5% back in bitcoin in qualifying purchases, like groceries, gas, restaurants and pet food when you use their no annual fee credit card. There are no rewards limits and no foreign transaction fees. Right now, get $25 in crypto after your first purchase when you sign up at blockfi.com/paula.
---
Wealthfront | Investing Platform
Want to create a portfolio of globally diversified, low-cost index funds personalized just for you? There are no manual trades, picking stocks, or watching the stock market every day with Wealthfront. They handle all the investing based on your preferences. Wealthfront is trusted with over $20 billion of assets, and you can get your first $5,000 managed for free by going to wealthfront.com/paula.
---
Shopify | Business Commerce Platform
Diversify your business by selling physical and digital products through Shopify's all-in-one platform. Every 28 seconds an entrepreneur makes their first sale on Shopify! Go to shopify.com/paula for a free fourteen day trial and get full access to Shopify's entire suite of features.
---
PolicyGenius | Insurance Quotes
Policygenius is the easy way to get life insurance. In minutes, you can compare quotes from top insurers to find the coverage you need, at a price you can afford. No matter how much – or how little – you know about life insurance, you can find the right policy at Policygenius.
---
CLEAR | Touchless Entry at Airports
CLEAR is a secure identity platform that allows you to use your face or eyes for touchless entry at airports. They have locations in over 35 airports across the country, making it safer, easier, and faster to reunite with family and friends, or take that much-needed vacation. For a limited time, get two months for free by going to clearme.com/paula.
---
Indeed | List a Job
If you're looking for amazing talent to bolster your team, you need Indeed. There are no long-term contracts, you can pause your account at any time, and you only pay for what you need. With Indeed Instant Match, Indeed searches through millions of resumes to help show you great candidates. Get a free $75 credit to upgrade your job post at indeed.com/paula.
---
Grove Co. | Eco-Friendly Home Products
Grove makes shopping for natural products easy. You don't have to search for a local store hoping that they carry what you want, and you don't need to worry about overpaying for "organic" products from questionable sites. Interested? Go to grove.com/paula to get a free five-piece gift set!
---
Apartments.com | Free Rental Management Tool
Want to streamline your leasing process and find the perfect tenant? Apartments.com lets you list your units, screen and receive applications, create leases, collect rent, and track maintenance and expenses, for free. It's the number one rental network. Go to apartments.com/paula to get started.
---
Blinkist | 15-Minute Book Synopses
Busy, but love to read and learn? Blinkist is the only app that takes the best key takeaways from thousands of nonfiction books and condenses them down into just 15 minutes. You can start a free 7-day trial when you join at blinkist.com/paula.
---
OUAI | Thoughtful Hair & Body Products
Created by celebrity hairstylist Jen Atkin, OUAI's hair care, body, and fragrance products are cruelty-, sulfate-, and paraben-free. Use their Detox Shampoo to reset your hair and scalp once-a-week. It smooths frizz and creates shine for all hair types. Go to theouai.com and use code "PAULA" to get 15% off your entire purchase. They have refillable pouches, too.
---
Betabrand | Dress Pant Yoga Pants
Most of us find ourselves in situations where we need to wear dress pants, whether it be for work, a conference, or a meeting. Wouldn't it be nice if dress pants were more comfortable to wear? Now they are. Betabrand offers dress pant yoga pants, and they're as awesome and as comfortable as they sound. Check out betabrand.com/paula and get 30% off one pair.
---
Mint Mobile | $15/mo Phone Bill
Want to reduce your cell phone bill? Mint Mobile costs just $15 per month, and every plan comes with unlimited nationwide talk and text. Mint Mobile offers 3GB, 8GB, 12GB, or unlimited 4G or 5G LTE data each month. You can use your phone with Mint Mobile and keep your phone number. Go to mintmobile.com/paula for your $15 per month plan.
---
Native | Eco-Friendly Deodorant
Native creates safe, simple, effective products with trusted ingredients and performance. Their deodorant doesn't have aluminum and comes in a wide variety of scents for everyone. You can try it risk-free as Native offers free returns and exchanges in the US. Want to give them a try? Go to nativedeo.com/paula for 20% off!
---
Boll & Branch | Ethically & Sustainably Made Sheets
Boll & Branch have a transparent manufacturing process and they're committed to using 100% organic cotton. They've saved 21,252 metric tons of carbon emissions and 592 gallons of water by using sustainable raw materials. Get 15% off your first set of sheets when you use the code 'paula' at bollandbranch.com.
---
Faherty | Summer Clothes with a Lifetime Guarantee
In need of a summer wardrobe that will last you for years to come? Faherty makes the perfect clothes for summer. They come in a wide variety of prints and they come with a lifetime guarantee of quality. Faherty will fix or replace your clothes for life. Get 20 percent off all your summer clothes when you use the code paula at checkout on fahertybrand.com.
---
Privacy.com | Virtual Credit Card
Privacy lets you buy things online with virtual cards, so you can keep your actual card numbers and identity safe. You can even set up recurring subscriptions with virtual cards, share virtual cards with others, and tag purchases. New users get $5 to use towards their first purchase – sign up by going to privacy.com/paula.
---
Fiverr | Find Freelance Talent
Fiverr Business can make it easier for you to find your next team member so you don't have to do all the work of combing through applications. Fiverr Business Success Managers select the best talent they have that matches your needs, and you can set budgets and manage projects from one platform. Sign up for free for the first year and save 10% on your purchase on Fiverr Business with our code, affordanything.
---
Stamps.com | 24/7 U.S. Postage Service
Stamps.com brings the services of the U.S. Postal Service right to your computer. You can print official U.S. postage 24/7 for any letter, package, and class of mail for any destination. You can schedule a free package pickup, too. Get a special offer that includes a 4-week trial plus free postage and a digital scale by going to stamps.com, clicking on the microphone at the top, and typing in paula.
---
Literati | Exclusive Book Club with Today's Leaders
Want to join a book club curated by today's leading authors and visionaries, like Malala, Stephen Curry, or Richard Branson? When you join Literati, you'll receive one physical, life-changing book per month that your luminary picks out. The Literati app also gives you exclusive access to book discussions led by your luminary. Go to literati.com/paula.
---
Gusto | Payroll for Small Businesses
Gusto makes payroll, benefits, and HR easy for modern small businesses. In fact, 72% of customers spend less than 5 minutes to run payroll! If you sign up at gusto.com/paula, you'll receive 3 months free once you run your first payroll.
---
Ritual | Clean Multivitamins
Ritual's clean, vegan-friendly multivitamin is formulated with high-quality nutrients in bioavailable forms your body can actually use. You'll always know what nutrients you're taking and where they come from thanks to Ritual's unique visible supply chain. Get 10 percent off during your first three months at ritual.com/affordanything.
---
SmartAsset | Retirement Planning
Want to find a financial advisor who's legally obligated to act in your best interests and willing to have a no-commitment financial consultation with you? Check out SmartAsset's quiz and get matched with three pre-screened advisors, plus, get a personalized retirement planning report at smartasset.com/paula.
---
ExpressVPN | Secure Internet at Home
Are you working from home more often? Is your internet connection as secure as it can be? ExpressVPN can help boost your security at home. It reroutes your internet connection through its secure servers and encrypts 100% of your data with best-in-class encryption to protect your information. Visit expressvpn.com/paula for an extra three months free on a one-year package.
---
Skillshare | Learn New Skills
Skillshare is an online learning community with more than 30,000 classes in areas like entrepreneurship, freelancing, and technology. Take your skills to the next level so you can earn more – grab 2 months of Skillshare for free at skillshare.com/paula.